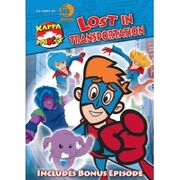 Lost in Transportation is the fifth episode in season 1 of the Kappa Mikey series. In this episode, the cast is scheduled to perform at the birthday party of the son of a major LilyMu advertiser. Mikey decides he can get there on his own and proceeds to get lost in Tokyo. As the cast does all they can to stall for him, Mikey joins a Tokyo motorbike gang and eventually becomes their leader.
Ad blocker interference detected!
Wikia is a free-to-use site that makes money from advertising. We have a modified experience for viewers using ad blockers

Wikia is not accessible if you've made further modifications. Remove the custom ad blocker rule(s) and the page will load as expected.