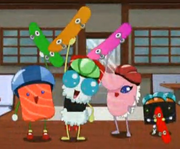 "Bowl" is an episode of Dancing Sushi.
The sushi gang are dancing, but Larry is bored. So he gets an idea to go skateboarding and the gang decides to use a bowl as a skating pool. Each member performs a trick except for Roro, who is too scared. However, once Roro gets inside the bowl, he gains confidence and starts to perform tricks while the rest of the gang cheers for him. He then flies into the ceiling fan and gets cut into 3 pieces. Fortunately, the layers land on top of each other and he starts dancing with the rest of the sushi gang.
Ad blocker interference detected!
Wikia is a free-to-use site that makes money from advertising. We have a modified experience for viewers using ad blockers

Wikia is not accessible if you've made further modifications. Remove the custom ad blocker rule(s) and the page will load as expected.